August 22nd 2012
Spend the day or choose to stay. We recommend that you visit the Red Hook neighborhood in Brooklyn, New York and spend the day shopping, relaxing and having fun. A little bit out of the way via public transportation, but easily accessible by car or New York Water Front Taxi. Red Hook is one of Brooklyn's most historic and interesting waterfront neighborhoods.
At the intersection of Columbia Street and Sigourney Street lies Old Todd Memorial Park, which is now home to Red Hook Community Farm, an agricultural oasis in Brooklyn.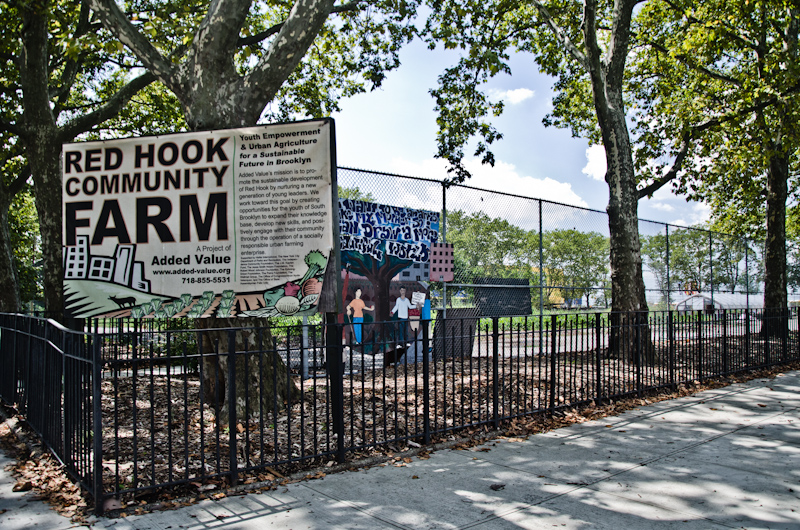 This once empty lot filled with debris, functions as a place for youth empowerment programs. Well over 100 teens participate and learn farming skills. The farm grows 12 tons of produce for donation, sale and consumption, creating over $120,000 in local economic activity and generating $70,000 in revenue for youth stipends.
Red Hook is home to an Ikea Store, which is located on the waterfront, next to and part of Erie Basin Park. There is a beautifully designed Ikea waterfront promenade with spectacular views in all directions including the lower Manhattan Skyline. The Ikea dock is the location for The New York Water Taxi which shuttles back and forth from Wall Street. The Water Taxi Ride is $5.00.
Walk just 2 blocks down the road from Ikea, and to the left, and you will find a "diamond in the rough", Brooklyn's only Fairway Supermarket. This one stop destination is located at 480 Van Brunt Street. There is an incredible selection of fresh produce, meats, cheeses, baked goods and many unique specialty imports and items such as the incredibly tasty, somewhat spicy Brianna's Chipotle Cheddar salad dressing. As if the selection of foods to choose from is not enough, in the rear of the Market there are The Fairway Market Café with a wonderful selection of salads and sandwiches and The Fairway Market Patio Grill with a scrumptious grill menu. The Patio Grill is open from Friday to Sunday from noon to 8 pm. You can relax and enjoy your meal on the gorgeous waterfront terrace, overlooking The Statue of Liberty, The Waterfront Barge Museum, cruise ships passing by through the harbor, the Verrazano Bridge and the lower Manhattan skyline. If you are not hungry you can simply enjoy strolling or sitting on the benches on the waterfront promenade. There is a free shuttle bus available to the market from a designated stop in Red Hook (for details check the Fairway Market website).
Right next to The Fairway Market, there is a new comer to Red Hook, newly built Brooklyn Crab restaurant, which offers an excellent array of delicious Sea Food and special beers. You can sit inside or on the terrific outdoor patio with great water views. The restaurant welcomes young people as well as families with kids. Brooklyn Crab has its own wonderful miniature golf course. Chef and co-owner Jason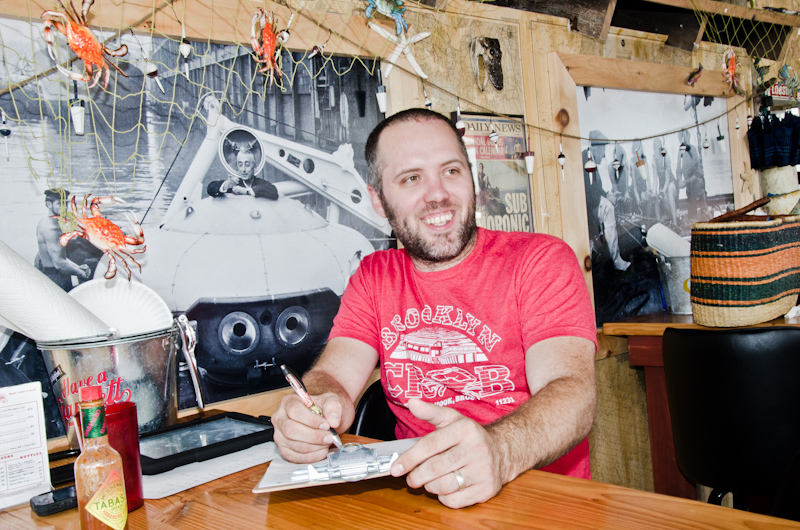 and his wife Renee are warm, welcoming and very friendly. At this time the restaurant kitchen is open from 5pm. Business is booming for this Red Hook newcomer, so get there as soon as you have a chance.
If you come and visit Red Hook, who knows, you may fall in love with this amazing Brooklyn, New York neighborhood and want to purchase Real Estate there. Red Hook is a great place to live and invest in real estate. There is not an extensive inventory of listed properties for sale available in Red Hook, Brooklyn, New York at this time. Depending on your preferences you still may find a few residential, commercial, mixed use, vacant land or development properties for sale. Accord Real Estate Group is currently in contract and has a pending sale on 2 adjoining properties, located in a prime Red Hook location, on Wolcott Street just off Van Brunt Street. We pride ourselves on being experienced and seasoned Brooklyn Realtors, real estate brokers and agents who can assist you in making wise decisions through the process of selling and buying Real Estate in Brooklyn New York.
Please click on the following link Red Hook to get more information about this Brooklyn NY neighborhood.