May 10th 2013
Fort Greene Brooklyn, a historic neighborhood, considered to be part of Brownstone Brooklyn, has many gorgeous tree lined streets exhibiting an absolutely magnificent array of homes in the Neo Grec, Romanesque Revival, Queen Anne, Italian and Federal style.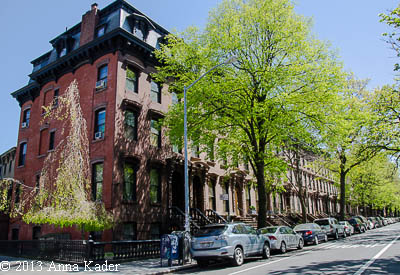 Fort Greene, Brownstone
The price range of these incredible homes has gone up dramatically and is in the multi-million dollar range. The rental prices in this neighborhood have also skyrocketed. For example, a studio apartment now rents for approximately $2,500.00 per month, one bedroom asking $3,500.00 and two bedrooms asking $4,700.00. Because of Ft Greene's popularity with renters and new home buyers there is high demand for new housing and several major residential projects are underway and set to launch in this neighborhood. For example, the Gotham Organization is developing 600 units of housing on a site bounded by Fulton Street, Rockwell Place and Ashland Place. Other examples of Fort Greene's residential housing boom are two more projects, a new rental building located at 66 Rockwell Place with 326 units being built by the Dermot Company and Two Trees which is developing 300 rental units, 50,000 square foot cultural facility with a public library, movie theatres operated by BAM, 25,000 square feet of retail and a 16,000 square foot public plaza.
A few years ago we were hired as the real estate broker to handle the marketing and sale of Temple Emmanuel In Zion Church building and adjacent 3 story brick rectory building on Cumberland Street between DeKalb Ave and Lafayette Ave. These historic landmarked buildings were developed into gorgeous luxury condominium units keeping façade of the buildings and the character of the neighborhood intact.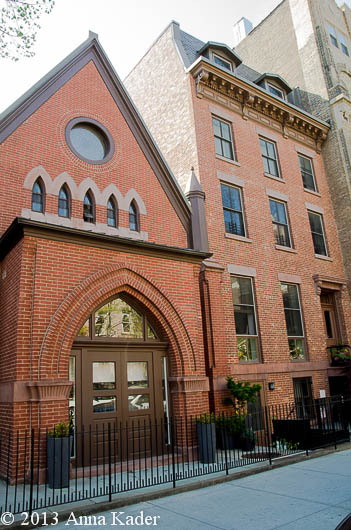 Cumberland Street, Church and Rectory buildings
Fort Greene is home to the Brooklyn Academy of Music, the oldest performing arts center in America, located on Lafayette Avenue which includes the new BAM Fisher building which opened in 2012. In addition to BAM Fort Greene is also home to The Brooklyn School of Music, The Paul Robeson Theatre, MoCADA -The Museum of Contemporary African Diasporan Arts, BRIC Arts | Media | Bklyn, which will move into the newly renovated Strand Theatre building at 647 Fulton Street this year, UrbanGlass, 651 Arts performing center for African American presenters, The Irondale Center for Theatre, Education and Outreach and the Mark Morris Dance Center. In addition the Theatre For A New Audience in 2011 broke ground on a new 299 seat theatre on the site of the city owned parking lot on Ashland Place. According to Mr. Tucker Reed, president of the nonprofit Downtown Brooklyn Partnership " within the next four years the neighborhood will have about 40 arts and cultural organizations, ranging in size from mega institutions like BAM to smaller arts incubators like the Alliance of Resident Theatres/New York.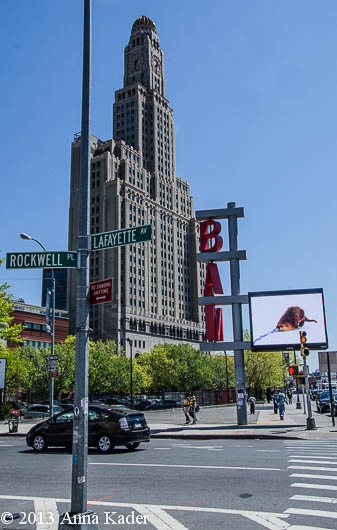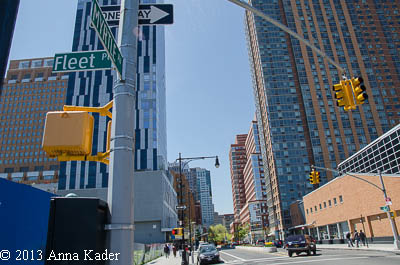 FT Greene, BAM sign Myrtle Avenue
Photos by Anna Kader
Fort Greene's main arteries are Fulton Street, Lafayette Avenue, Dekalb Avenue and Myrtle Avenue. Fort Greene can be reached by the New York City Subway at Dekalb Avenue (B, D, N, Q, R trains), Atlantic Avenue - Barclay's Center (2, 3, 4,5, B, N, Q, R trains), Lafayette Avenue (A and C trains) and Fulton Street (G train).
For more information on the latest and future goings on in Brooklyn's incredible neighborhoods please feel free to contact us anytime. Thank you for taking the time to visit our website and to read our blogs.