October 28th 2017

In many of our densely populated neighborhoods in Brooklyn, NY there are amazing development projects under way with beautifully designed high rise office buildings, cutting edge architecture used to build large mixed use buildings and a sea of new hip, high tech and fancy looking residential towers being built. But then there are the conjoined neighborhoods of Fiske Terrace and Midwood Park that could not be more different then these other neighborhoods. If you want to live in Brooklyn, but yearn for a neighborhood with a wonderful old world suburban landscape with a look and feel of early 20th Century Brooklyn living, Fiske Terrace and Midwood Park fit the bill to a tea. Fiske Terrace and Midwood Park have been designated as a 12 block Historic district. Neighborhood boundaries are Foster Avenue, Avenue H, Ocean Avenue and the subway tracts of the B & Q trains.
The housing stock in Fiske Terrace and Midwood Park consists of magnificent Queen Anne and Colonial Revival style homes with wide spacious front porches and lush gardens. Fred Baer, a former president of The Fiske Terrace Association says " people come here and can't believe that they are in the center of Brooklyn". An interesting fact about the houses of Fiske Terrace and Midwood Park is that starting in 1905 the homes were built from prefabricated set patterns, yet there are some distinctive exterior differences in the look of many of the homes. John Corbin and George B. Fiske were the developers of many of these homes. Architect Benjamin Dreisler designed over 100 houses in the Fiske Terrace and Midwood Park neighborhoods as well as in the Ditmas Park Historic district.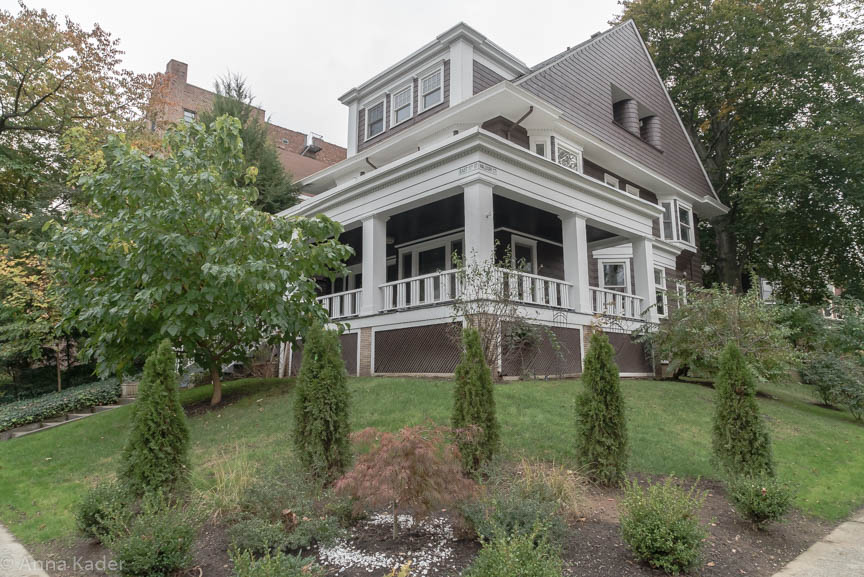 One of many fine homes in the area is a 1906 mansion located at 776 East 17th Street. According to the Landmark Preservation commission " this house is remarkably intact" with a gable roof and dormers, stained glass windows and original details throughout.
The price range of houses in the area is from $1.3M to $1.5M for a 3 to 5 bedroom one family home to $2M+ for a larger 6 + bedroom home.
The walkability of these neighborhoods is excellent with public transportation to Manhattan on Avenue H for the Q local train and Newkirk Plaza for the express B train and the local Q train.
Shopping, restaurants, bars and café's are numerous and wonderfully diverse.
The local Elementary School is P.S.154 The Windsor Terrace Elementary School located at 1625 11th Avenue.
The Middle and High Schools are part of the Brooklyn Prospect Charter School system with The Windsor Terrace Middle School and Brooklyn Prospect Park High School located at 3002 Fort Hamilton Parkway.
If you or someone you know are planning to sell their Brooklyn property, whether a residential property, a multifamily building, a commercial property, mixed use, multi family, co op or condo, vacant land or a development opportunity, call us. You will be very happy that you did.
We always bring our clients the top market price for their property and provide exceptional personalized service from initial consultation to closing.
Thank you;
Accord Real Estate Group