November 21st 2017

The Fulton Ferry Historic District is in fact of great historical and architectural importance. This is where Brooklyn New York began! The history of this amazing area extends from the Ferry that served it. Tragically, the opening of the Brooklyn Bridge in 1883 caused the gradual decline in ferry service and the demise of this once vibrant and important area.
The Fulton Ferry Historic District is sandwiched in between Dumbo and Brooklyn Heights. The area boundaries are Doughty Street, Furman Street, along the East River Waterfront, the eastern tower of the Brooklyn Bridge to Main Street, then along Water Street and Front Street. The Fulton Ferry Historic District is the last piece of actual waterfront near Brooklyn Heights.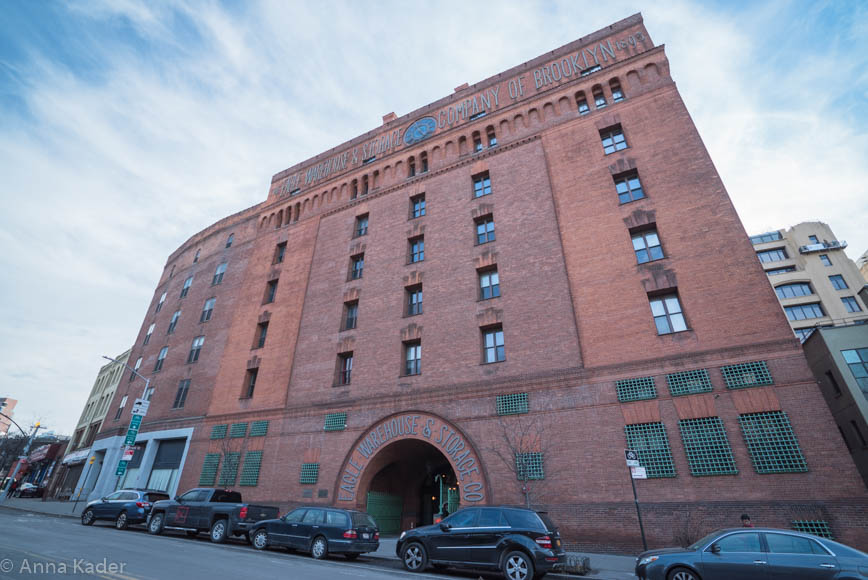 The predominant architectural styles of the Fulton Ferry Historic District buildings are Federal, Greek Revival, Italianate and Romanesque Revival.
Architect Frank Freeman designed the Eagle Warehouse. Empire Stores is a great example of functional architecture of the late 19th century.
Residential real estate values in the Fulton Ferry Historic District are high and the inventory of properties on the market for sale consists mostly of Condominium and Cooperative apartments. For example, at 90 Furman Street, a 4,200 square foot 5 bedroom, 5 bath condominium unit built in 2015 is priced at $7.950M. Condo prices start at $1.795M for a 1,500 square foot 2 bedroom 2 bath unit located at 30 Main Street. There are currently 2 Co-op apartments on the market at 8 Old Fulton Street. There is a 2,900 square foot 2 bedroom 3 bathroom apartment priced at $3.995M and a 1 bedroom 1 bath corner triplex apartment priced at $1.845M.
As you can well imagine the residential rental market in the Fulton Ferry Historic District is pricey. The range in asking rents is $3,279/Month for a studio apartment to $6,300/Month for a 2 bedroom 2 bath apartment.
Walkability in the Fulton Ferry Historic District is excellent. The A and C trains into Manhattan are located at High Street and Cadman Plaza East near Red Cross Place at the High Street subway stop aka High Street Brooklyn Bridge aka Cranberry Street. Buses into Manhattan are the M15 and the M34.
The Public Schools serving the Fulton Ferry Historic District are:
Elementary School P.S. 8 is located at 37 Hicks Street and has grades 1-8, Ok + SE
Millenium High School located at 75 Broad Street in NYC
Peck Slip School P.S. 343 located at 1 Peck Slip in NYC amd has grades Pre K, K to 5th grade. Course study focuses on Science, Music and Art.
New York Harbor School located at 10 South Street in NYC. Classes are geared toward skills associated with careers on the water.
Shopping, restaurants and the night life are all nearby. Some highlights near the area are the newly opened and magnificent 1 Hotel Brooklyn Bridge located along the Brooklyn Bridge Park waterfront, The William Vale and The Wythe Hotels in Williamsburg for great food, drinks, all with magnificent views of Brooklyn and Manhattan. You can join the very hip and diverse groups of folks from around the world hanging out and having fun at the fabulous hotels. Also nearby is Grimaldi's Pizzeria, Junior's restaurant & bakery with world famous cheese cake and rugalach pastry, Peter Lugar's Steak House, Alamo Drafthouse Cinema, numerous Montague Street and Court Street restaurants such as Queen Italian restaurant serving wonderful dishes for decades. Let's not forget the Barclay Center a very popular, major sports and entertainment venue that has world class concerts such as Barbara Streisand, Sting and Beyonce performing.
If you are interested in selling your residential property in the Fulton Ferry Historic District or you know someone who is planning to sell their Brooklyn property, whether a residential property, a multifamily building, a commercial property, mixed use, multi family, co op or condo, vacant land or a development opportunity, call us. You will be very happy that you did.
We always bring our clients the top market price for their property and provide exceptional personalized service from initial consultation to closing.
Thank you,
Accord Real Estate Group