ZIP Code 11205 and 11217
Fort Greene is a unique trendsetting Brooklyn neighborhood. Fort Greene is named after major general of the Continental Army of the Revolutionary War Nathanael Green. It is a New York City-designated Historic District. Fort Greene Brooklyn New York is home to many writers, musicians, designers, film makers and visual artists. BAM the oldest performing arts center in America is located on Lafayette Avenue in Fort Greene Brooklyn New York. The neighborhood around the BAM in Fort Green Brooklyn New York has been designated as Brooklyn Academy of Music historic district. The Real Estate in this historic district in Fort Greene Brooklyn New York consists of notable churches, brown stones and apartment buildings, many built between 1855-1880. Years later in the early twentieth century Fort Greene Brooklyn New York homes were built in the Neo Greco Romanesque Revival, Queen Anne, Italianate and Federal style. Fort Greene Brooklyn New York Real Estate is booming with prices for homes ranging well into the million dollars plus range.
| | | | |
| --- | --- | --- | --- |
| | | | In September 2012 Barclay Center, the long-delayed $1 billion state of the art sports and entertainment arena was opened in Ft Greene, Brooklyn NY. Barclay Center is 675,000 square feet in size and can seat 14,500 fans. It was designed by the architect firm Ellerbe Becket and New York City firm SHoP Architects. The design and construction of the exterior of the Barclay Center is meant to evoke the image of Brownstone Brooklyn. The Barclay Center is home to the Brooklyn Nets, a major-league sports team that returned to Brooklyn for the first time in more than half a century. |
Barclays Center, 620 Atlantic Ave Brooklyn, NY 11217 - aerial view from Washington Savings Bank Clock Tower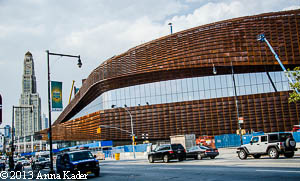 Barclays Center - Brownstone Brooklyn
Photos by Anna Kader
Neighborhood Boundaries
From Navy Street, Prince Street, Ashland Avenue, Flatbush Avenue Extensions on the west to Vanderbilt Avenue on the east, from Nassau Street and Flushing Avenue on the north to Atlantic Avenue and south. Source Reference: Wikipedia
Brooklyn New York Real Estate listings
To browse through real estate listings - Residential, commercial and investment properties, Co-op apartments and Condos, new developments, mixed use buildings, brownstones and townhouses, raw land, vacant lots, to check home and house values and compare the prices of houses by Neighborhood click on Listed Properties.
Fort Green Brooklyn Real Estate
Specializing in sales and marketing of residential and commercial properties. Learn about the current, top market value of your property in Fort Greene Brooklyn NY. Get a free property evaluation. Please email Jeff Grandis - Brooklyn New York Real Estate - at jeff@accreg.com or call at 917-804-3198. It is now a fact that families from all five New York City boroughs especially from Manhattan, are seeking to buy a home in Brooklyn, NY because Brooklyn is no longer an alternative, it is the 1st and best choice in where to buy. For information about schools in Fort Green Brooklyn, NY please click on the following link: Schools for Fort Green Brooklyn, NY 11205. Click here for Listed Properties in Fort Green Brooklyn, NY 11205